Beauty & Self
Books & Music
Career
Computers
Education
Family
Food & Wine
Health & Fitness
Hobbies & Crafts
Home & Garden
Money
News & Politics
Relationships
Religion & Spirituality
Sports
Travel & Culture
TV & Movies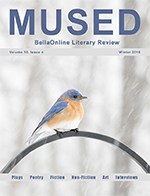 Sometimes it seems as if winter quotes make winter out to be a necessary evil which exists only for us to appreciate the subsequent warmth. Shelley: "If winter comes, can spring be far behind?" Shakespeare: "Now is the winter of our discontent made glorious summer by this sun of York." Hugo: "Laughter is the sun that drives winter from the human face."

But winter is far more than a down against which to compare the subsequent ups. Winter is a powerful, magical time. It is a season of strength. Of looking inward and finding focus. Bob Seger stated, "I write probably 80 percent of my stuff over the winter." Terri Guillemets reminds us, "The color of springtime is in the flowers; the color of winter is in the imagination." The Winter Solstice is a time to embrace the mysterious. The endless possibilities. The sense that we already have, within ourselves, boundless creativity and opportunity. We simply have to still ourselves and listen.

Winter is a powerful season. It gives us that space to look back and learn from our history. To look forward and envision what we wish to become. To be fully mindful of the present and be aware how each day has potential for us to speak out and impact the way our world proceeds. To move us toward peace, fulfillment, and an appreciation of what each of us has to offer.

Happy Winter Solstice.

Enjoy the Mused Winter Solstice 2016 Issue



A Practical Property Exorcism
Pagan - Ian Edwards, Editor

"Good afternoon. I'm from the safety service and I'm here to pick up our equipment.". Not a line most people think of as part of an exorcism, but surprisingly effective nonetheless under the right conditions. To learn what these are read this latest article.




Courtyard Garden Design II
Container Gardening - Lestie Mulholland, Editor

You've got the space. You have the means and ideas. You've decided what you want – a private chillax space (chillax combines chilling and relaxing!) So then, where does the design start? What needs to be done to achieve a dream or two where breathing is easier and me-time is possible? Read on!




The Passenger Book Review
Suspense / Thriller Books - Karen Hancock, Editor

The main character in this fun novel has been running for the last 10 years. Readers won't know why until the end, but the suspense and twists and turns make the book very difficult to put down.




Read Across America Day March 2
Reading - Connie Mistler Davidson, Editor

Start your plan now! Read Across America is coming! March 2 can be a glorious celebration of reading in your family. Visit a library. Bring friends and neighbors into Read Across America, so that they can enjoy this special day, too. Have a wonderful day of reading!




Making Time for Quality Family Time
Etiquette - Lisa Plancich, Editor

No time to converse with kids while you are cooking, cleaning, etc? How about you teach them the valuable skills you have mastered in maintaining your household?




Free Form Tatting Collage
Tatting - Georgia Seitz, Editor

Just once, throw away the pattern, grab shuttles, needles and thread in several colors and just start tatting. You will be surprised at what falls out of your shuttle or off your needle. Try this simple collage.


| Google+ |
E D I T O R R E C O M M E N D E D
LoMásTv


Highly recommended product, if you really want to improve your Spanish. While watching the video you have the option to read, in subtitles, the words in Spanish and, if you also chose it, you can read the translation (in English) for it. Simply... ¡Genial!
Giada´s Kitchen


In this book each recipe is a burst of taste, colors and combination of flavors; the instructions are really easy to follow for anyone, and the final result of virtually every dish is presented in a beautiful arrangement of photographs.
Jesus of Nazareth


Award winning film produced by Franco Zeffirelli, depicts the life of Jesus Christ from birth to resurrection. Originally made for television in 1977, this set is available on DVD or VHS. It´s been a few years since I last watched this awesome depiction of Christ´s life, but it still remains one of my favorite.